Do Men Wear Moissanite Tennis Chains?
Are you wondering if men can wear moissanite tennis chains? Because the answer is absolutely yes! This type of jewelry is not limited to women, and creates a unique dapper look that men can enjoy.
According to GQ Magazine, this kind of tennis chain style is worn by celebrities and athletes like Pete Davidson, James Harden, Lebron James, Drake, and many more. So, what's stopping you from trying out men's moissanite tennis chains? In this article, we'll share tips on how to style this type of jewelry.
But before we dive into that, let's talk about what men's moissanite tennis chains are.
What is a Men's Moissanite Lab Diamond Tennis Chain?
A men's Moissanite lab diamond tennis chain is a necklace composed of a series of Moissanite lab diamond stones strung together to create a gorgeous necklace.
Men wear this to enhance their overall look, whether they're attending formal events, social gatherings, or simply aiming to elevate their everyday style. 

How to Style a Men's Moissanite Lab Diamond Tennis Chain
The amazing thing about men's moissanite tennis chains is how versatile they are and how they automatically spice up your look. For a formal event, pair it with a suit and tie for a classic and sophisticated look. If you're aiming for something casual, wear it with a plain t-shirt or a sweater.
Keep in mind that this is a statement piece, so keep the rest of your accessories simple and let the chain be the star of the show.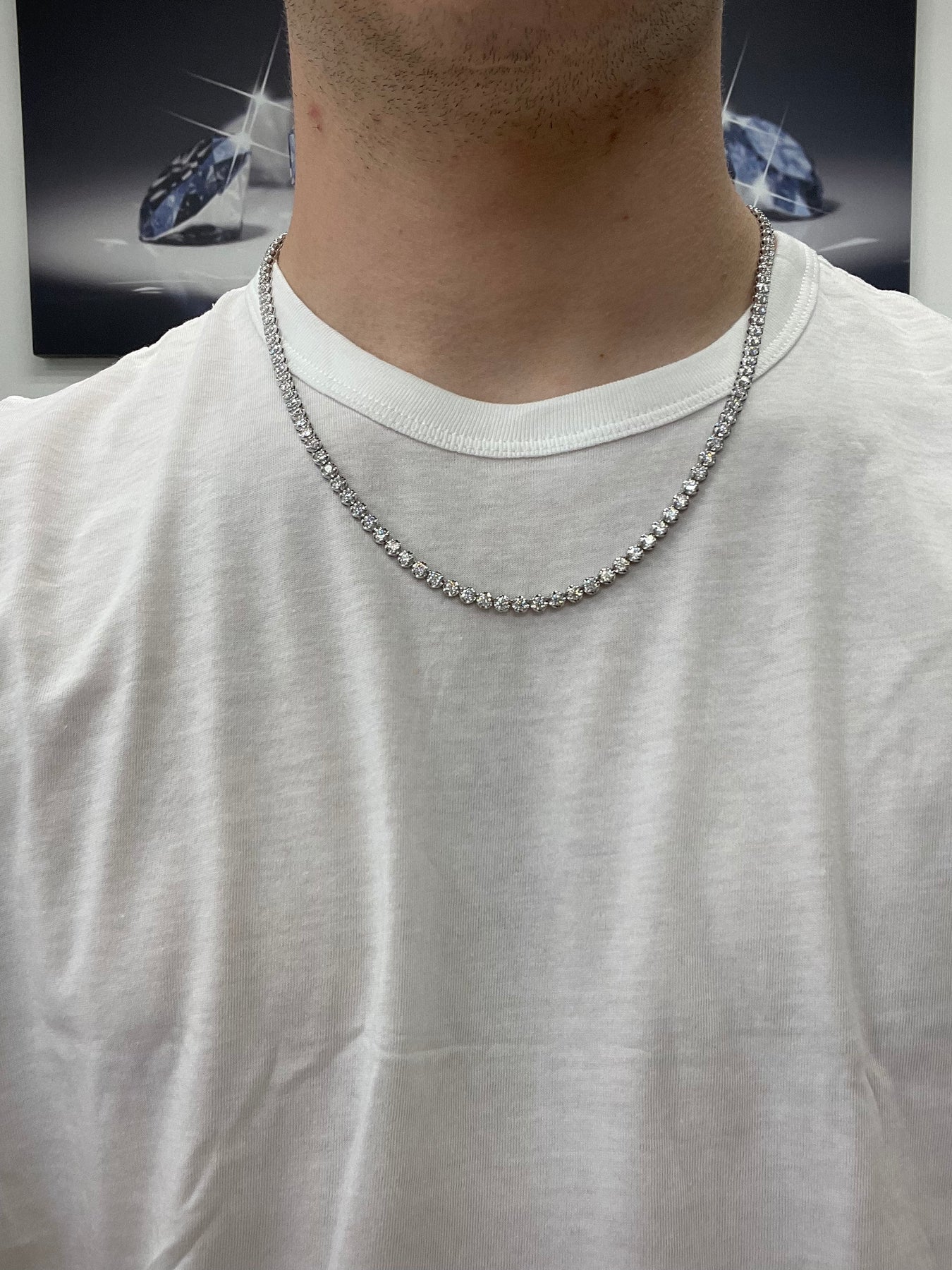 The Ring Pal - Men's 14 Carat Moissanite Lab - Diamond Tennis Chain Solid Gold
Caring for Your Men's Moissanite Lab Diamond Tennis Chain
Here are some proper care tips to keep your men's moissanite lab diamond tennis chain sparkling and looking like brand-new. first, avoid wearing it while swimming or showering because the water and chemicals can damage it. Next, clean it regularly with a soft cloth and store it in a jewelry box when you are not wearing it. You may even use an ultrasonic jewelry cleaner which is the same machine used by jewelers to gently remove dirt and grime. 
---